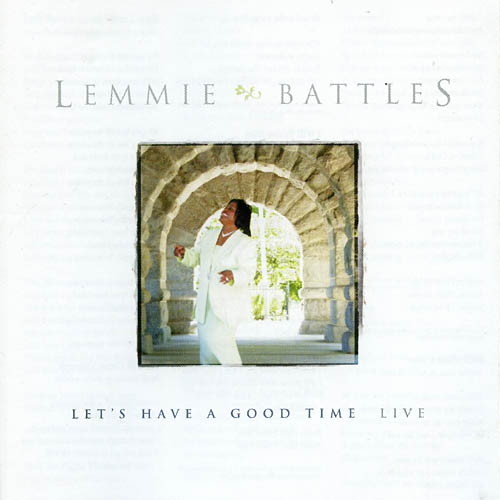 Gospel Songbird Evg. Lemmie Battles
Anointed and Appointed. Seasoned and savvy, baptized and filled with the Holy Spirit, is this Gospel Songbird, Evangelist Lemmie Battles. Singing since the age of 5, this native Arkansan, has sang in country churches and massive coliseums and ministered before princes and common folk alike. Blessed with a distinctly unique vocal talent, that commands attention, often moving the listeners to a wide range of emotions, she'll make you cry, smile, run and shout! That's the one and only Lemmie Battles.
More about Sis Lemmie Battles
Lemmie is an accomplished recording artist. Her first solo project was entitled, "Know Him So Well" made a tidal wave in the Gospel industry.This Project is now available as a CD at www.mp3.com/lemmiebattles. Lemmie's Sophomore independent project entitled, "He Will Come Through", produced by famed Grammy nominated producers, Percy and Jerald Gray, showcases an awsome blend of vocal skills, that is uniquely Lemmie. "He Will Come Through", has a good mix of Traditional Gospel with a pinch of Contemporary flav. Just recently she was in FIA recording studio in Atlanta GA with producer J.Teeza and Dr.P, collaborating with the new group "Different Partners" on a track call "Give Him The Praise", which will be on FIA's compilation CD entitle"Praise Pleases Him". This track will showcase her ability to even sing contempary Hip-Hop Gospel.
The Gorgeous Granny
Lemmie Battles is also a seasoned actress. Most recently she graced the stage by playing the principle character (Gorgeous Granny} in the Hit Gospel Play New Beginning. She performed songs and acted all in the same play. This play received great reveiws and awards. Theres more acting to come for Evg. Lemmie Battles
Collaborations
Within the past decade, Lemmie's career has soared to astronomical heights. She has shared the stage with a virtual "Who's Who" of Gospel artist; such as Pasto Shirley Caesar, Kim Stratton, Ethel Holloway, The Mighty Clouds of Joy, Bobby Jones, The Canton Spirituals, Vickie Winans, Donnie McClurkin, Vanessa Bell Armstrong, Min.Jessie Dixon, Gary Oliver, LaShaun Pace, Singer "Regina" from Real Deal Records and Many More.

More Collaborations
Sis Lemmie's vocal abilities has been show cased os several major projects. The list includes; I Plead the Blood of Jesus, with Rev. Clay Evans and the Ark Mass Choir, Take Over Lord, with the C.O.G.I.C. National Convention Choir. Lemmie has been a faithful member of the Chicago Mass Choir since 1996 and ia a featured solist on the following selctions; Great Day, Take Over Lord, Keep Your Mind On Jesus, Stellar Nominated Saved, Sealed and Delivered and the current hit, Holy Ghost Power.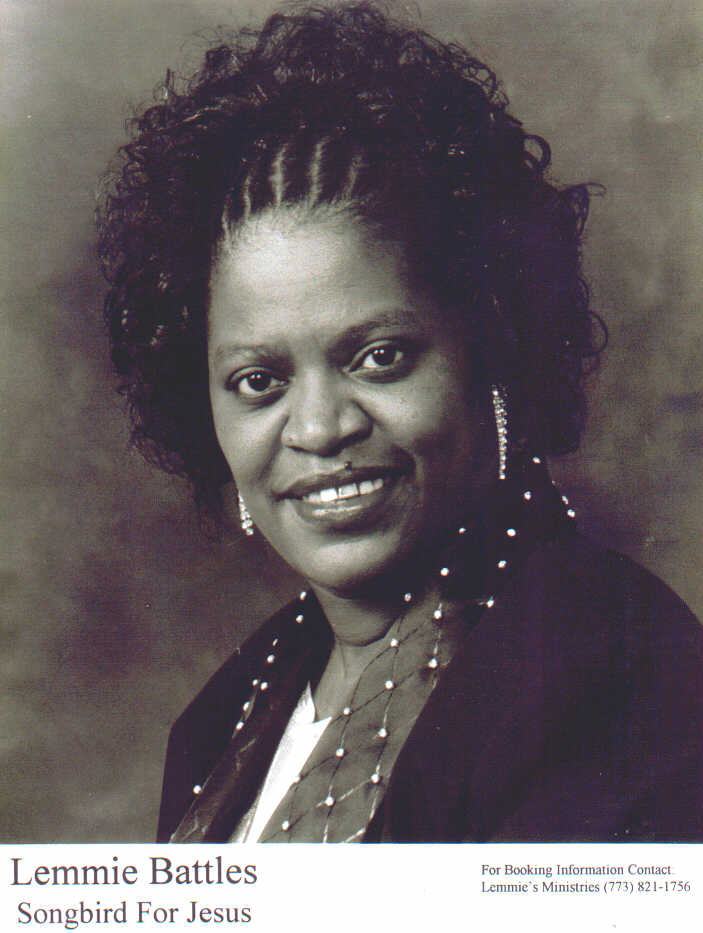 "Lets Have A Good Time"
You can pick up my new CD at any Walmart store or any Christian book store. Thanks in advance for your support in my ministry.
Send an email